You are here
A Halloween Scare in St. Louis (Hardcover)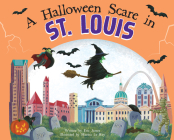 Description
---
This spooktacular Halloween picture book is a not-so-frightful, oh-so-delightful tale for children 4-8 who love St. Louis!
It's Halloween night in St. Louis, and creatures and critters from Shaw to Soulard are starting to gather outside the front door. A flurry of monsters on broomsticks, buses, and bikes are all clamoring in the darkness. What is it they want? Are they coming for you? Get ready for a furry, fanged fest! A perfect Halloween gift for kids, this fun read-aloud book is packed with colorful illustrations and charming rhymes featuring iconic locations and landmarks from St. Louis that kids, parents, and grandparents alike will love reading together.
Ideal for boys and girls ages 4-8 and their caregivers
A great Halloween gift or basket-stuffer for a unique family treat!
Not-too-scary fun for every reader, filled with witches, ghosts, ghouls, and pumpkins galore!
Enjoy landmarks such as Gateway Arch, Busch Stadium, One Metropolitan Square, and more
Perfect for kids who live in or have relatives in St. Louis or visit the South
From Benton Park, North Pointe, and Forest Park too,
A mountain of monsters, the motliest crew,
All gathered together for one spooky night,
To seek out the living and give them a fright.
About the Author
---
Eric James is a children's book author, word tickler, and champion asparagus thrower. You can find him online at www.ericjames.co.uk. He lives in Bath, England, with his family.
Marina Le Ray has had success both as a children's book illustrator as well as a greeting card designer. She lives and works in Nantes, France.
Holiday orders
NOW is the time to place your holiday gift orders! To ensure your order reaches before the holidays, we are recommending you place your December orders as soon as possible.
We cannot guarantee any orders for books placed after December 13th will reach you before Christmas.
The sooner we receive your orders, the more chance we have of them arriving before the holidays!
We also have gift certificates available for any amount - click here!