You are here
Sam and the Incredible African and American Food Fight (Hardcover)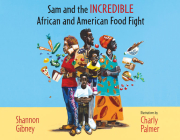 $17.95

NOT IN STOCK - Ships from wholesaler in 7-10 days
Description
---
Six-year-old Sam, with his Liberian dad and African American mom, finds a way to bring everyone in his cross-cultural family together at the dinner table
Rice and okra soup: Sam's auntie from Liberia made it, and it's Dad's favorite. Mom, homegrown in Minnesota, made spaghetti and meatballs. And Sam? He's just hungry, but no matter what he chooses to eat, someone will be disappointed. Caught in the middle of his family's African and American food fight, Sam gets a little help from his grumbling stomach—and readers of this seriously funny book by Shannon Gibney get a peek at cultures colliding in a family kitchen that work out in a very delicious way. Charly Palmer's vibrant and captivating illustrations make this gentle lesson in getting along a bright and colorful visual feast as well.
Cassava leaf torbogee or homemade sausage pizza? Sam's family recipes bring Sam and the Incredible African and American Food Fight to an apt and happy ending—and readers can decide which dinner is best. But, really, why not both?
About the Author
---
Shannon Gibney is a writer, educator, activist, and author of See No Color and Dream Country, young adult novels that won Minnesota Book Awards. A Bush Artist and McKnight Writing fellow, her memoir exploring transracial adoption and her YA anthology of stories about adoptees by adoptees will also be published in 2023. She teaches writing in the English department at Minneapolis College.
Charly Palmer is a fine artist, illustrator, teacher, and mentor whose book illustrations include There's a Dragon in My Closet, Rainy Day Rocketship, I Can Write the World, All Boys Aren't Blue, and Mama Africa, for which he received the Coretta Scott King/John Steptoe New Talent Award.
Praise For…
---
"From Shannon Gibney and Charly Palmer comes a wonderful story filled with our childhood memories and illustrated with astonishing colors. I loved this book because it brought back my own food experiences with my grandmother. A fantastic and worthy addition to any collection!"—Siman Nuurali, author of the Sadiq Series

 
"This is a perfect read aloud for elementary students and an excellent way to introduce acceptance and diversity into classroom discussions."—Youth Services Book Review
Holiday orders
NOW is the time to place your holiday gift orders! To ensure your order reaches before the holidays, we are recommending you place your December orders as soon as possible.
We cannot guarantee any orders for books placed after December 13th will reach you before Christmas.
The sooner we receive your orders, the more chance we have of them arriving before the holidays!
We also have gift certificates available for any amount - click here!