You are here
Begin Again: How We Got Here and Where We Might Go - Our Human Story. So Far. (Hardcover)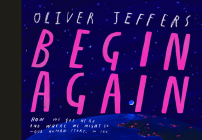 $26.99

NOT IN STOCK - Ships from wholesaler in 7-10 days
Description
---
In his first illustrated book created specifically for readers of all ages, Oliver Jeffers shares a very brief history of humanity and shares his dreams for where we go from here.

With his bold, iconic art, Oliver Jeffers follows the human path from the dawn of our species through history, sharing profound, sometimes poignant, commentary on our present, and then offers a challenge: Where do we go from here? How can we create new stories and new systems that allow all of humanity to flourish? How can we journey toward a collective and robust future?

Illustrated in his world-renowned art style, Oliver Jeffers' reflection on the patterns that have led us to where we are today, the stories we have governed ourselves by, and those we might adopt going forward, is insightful, moving, and powerful. A must-have for anyone who wants the next generation to inherit a world to be proud of--and a perfect gift to share with those you care about.
About the Author
---
Oliver Jeffers (OliverJeffers.com) makes art and tells stories. His books include How to Catch a Star; Lost and Found, which was the recipient of the prestigious Nestle Children's Book Prize Gold Award in the UK and was later adapted into an award-winning animated film; and the New York Times bestsellers Here We Are, What We'll Build, Stuck, This Moose Belongs to Me, and Once Upon an Alphabet. He is also, of course, the illustrator of the #1 smash hit Crayons series, written by Drew Daywalt. His fine art is world-renowned and his dip-art exhibitions are much sought-after events. Originally from Belfast, Northern Ireland, Oliver now splits his time between Belfast and Brooklyn, New York. Follow him @OliverJeffers.
Praise For…
---
Praise for Begin Again:

"Illustrations and text unite to sketch out human history and to make suggestions for a more human future . . . in a whimsical, gorgeously illustrated package. A beautifully rendered, determinedly optimistic, zoomed-out meditation on the human condition." —Kirkus Reviews


"The text . . . forms an integral part of the art and layouts and conveys a sense of movement and energy. The vivid pink-and-purple palette feels both electric and ethereal, providing an appropriately novel texture to a work about seeking the new and unexpected. It's the perfect gift for anyone at a turning point in their own life." —Publishers Weekly
Holiday orders
NOW is the time to place your holiday gift orders! To ensure your order reaches before the holidays, we are recommending you place your December orders as soon as possible.
We cannot guarantee any orders for books placed after December 13th will reach you before Christmas.
The sooner we receive your orders, the more chance we have of them arriving before the holidays!
We also have gift certificates available for any amount - click here!